Grow Big (Or Go Home) - Tricky and Chaotic but it grows on you
In a time of quarantines and lockdowns, we've all had to stop at some point and try to find another hobby that can take up just a little more time. Like many of you probably have, I tried an array of things that barely caught my attention, one of them being gardening. Plants are great, of course, and we should have more of them around us at any given time but you'll still end up waiting weeks for the payoff. This law of nature is not fun for the impatient person….unless you do it in Quarant Inc.'s Grow Big (or Go Home) that is.
So what's it all about?
Grow Big (or Go Home) is a tricky 2D pixel art garden simulator that takes plant care and puzzles seriously. You play as Bruce, an indoor gardener with a slick pair of overalls and a talent for growing houseplants in impossible locations. As you progress through the game's 15 levels, you get transported from Bruce's home to Greek and Mayan civilizations, and eventually into space. Each level has it's own obstacles to overcome in the pursuit of plant perfection and even features the houseplant's natural enemy, the house cat.
Levels evolve slowly which makes for an easy learning curve when coupled with the game's simple controls. While the game's aesthetic and gameplay are quite simple, getting five stars in each area should provide a decent challenge. Once you've mastered every area, you unlock hidden levels in Hell which ups the intensity considerably. Playing with headphones on is a must, by the way, because the soundtrack really deserves your attention. Every level has a unique soundtrack to compliment the setting.
It's gardening, just without the relaxation.
You're given a short amount of time to use the various objects around you to grow your plants. You begin with just a mirror and a watering can but new objects appear every few levels that also bring new twists to the puzzle. As the sun moves from one side of the room to the other, you must angle the light and manage plant hydration.
You also need to be mindful of any other threats to your plants like fires and animals. The light moves quickly and some levels can feel chaotic, especially if you're looking to ace each one for the hidden stages. Still, the soundtrack and pretty graphics make it worth each attempt.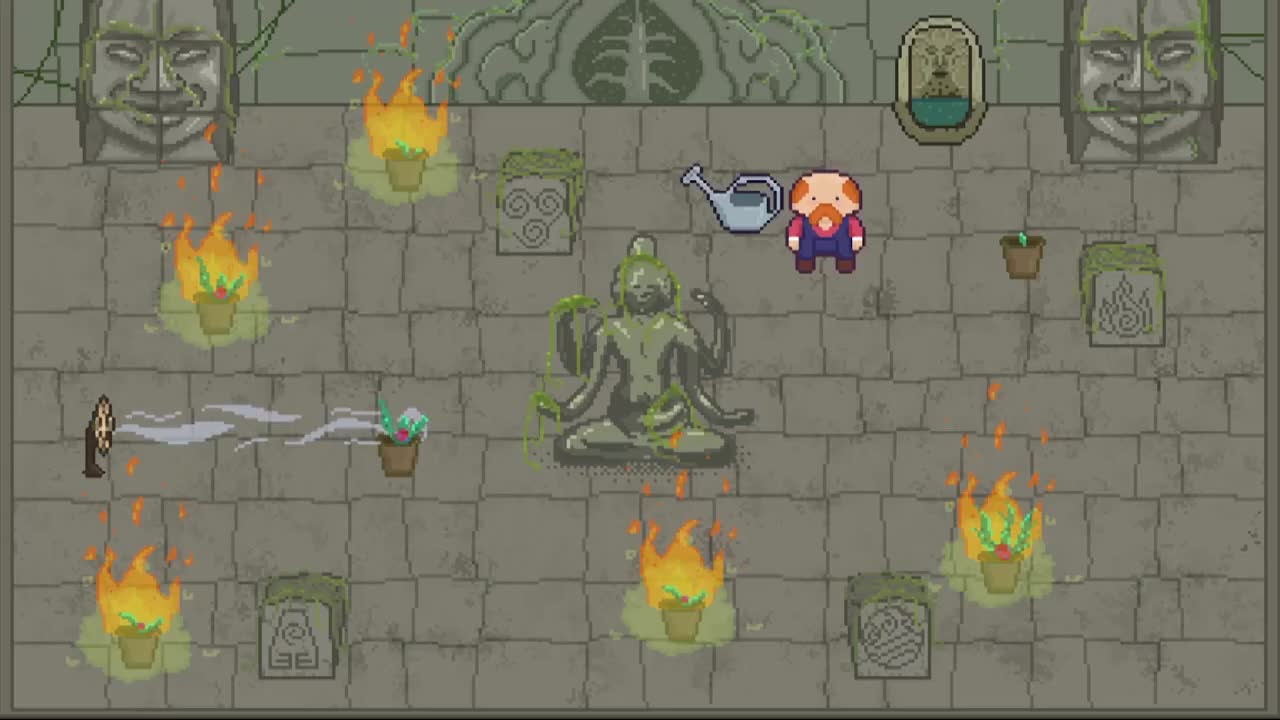 Solving puzzles shouldn't pose much of a problem to most players because it essentially repeats, just with another layer added. Perfecting each level, on the other hand, will provide a worthwhile challenge. Once you've mastered an area, you can unlock different outfits to garden in greater style. There's not much in the way of collectables but it helps keep the experience purely focused on mastering each area. The game is currently available on Steam for €7.39.
For a game with an excellent soundtrack, colourful and playful pixel art graphics, a challenging set of puzzles and a replayable and procedurally generated hidden level, it's well worth your time.
Stay tuned to GamEir. Come talk with us on Twitter (@gam_eir), Facebook (@GamEir), and Instagram (@GamEir).
I promise we're nice! Keep up with our streams over on Twitch (GamEir) and our videos on YouTube (GamEir) and we'll give you all the latest content.