After the battle guide was revealed recently there is now a new trailer for Dissidia Final Fantasy NT, the exciting new team-based brawler, breaks down the basics for players ahead of the game's launch. The overview trailer showcases the distinct bravery combat system, Final Fantasy summon beasts, character classes and unique abilities that fans can employ in battle.
Additionally, for those who are looking for which character fits their play style, a new character class flowchart is available below. By the way I checked out this flowchart and I found out I'm an assassin and I'm quite pleased with that because the design of this flowchart is so much fun and enjoyable. I've never had so much fun with a flowchart it makes me wonder if this what it's like for much more mature individuals who work with pie charts, Venn diagrams, and flowcharts? Anyway back to the matter at hand, if you like me got assassin you fall under the players who should try out Squall, Lightning, and Tidus. The first two I get, Squall was a part of an elite squad that did get involved in assassinations and Lightning is quite the intense figure with assassin like skills, Tidus, however, is a bit of a stretch.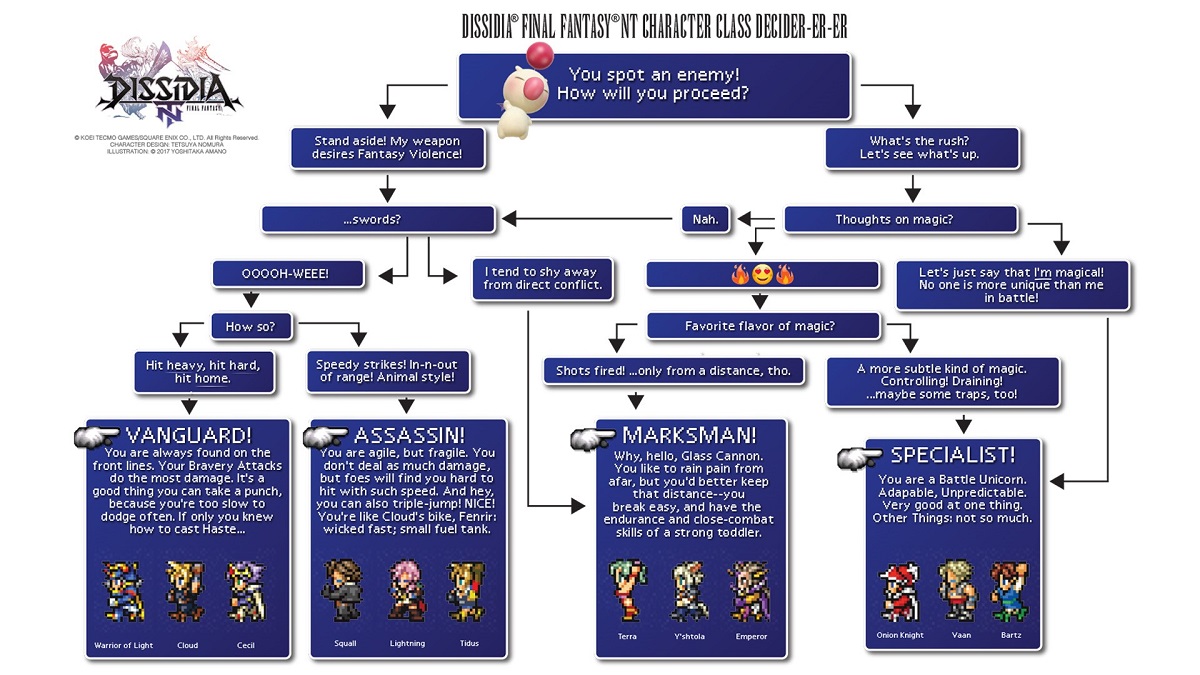 Fans can pre-order the Dissidia Final Fantasy NT Ultimate Collector's Edition exclusively from the Square Enix Online Store. The SteelBook Brawler Edition and digital editions are also available for pre-order from participating retailers.
Dissidia Final Fantasy NT will be available for the PlayStation 4 computer entertainment system on January 30th, 2018. If you'd like to learn more about Dissidia Final Fantasy NT check out the links for the Facebook Page, the Official website, Twitter, and Instagram.